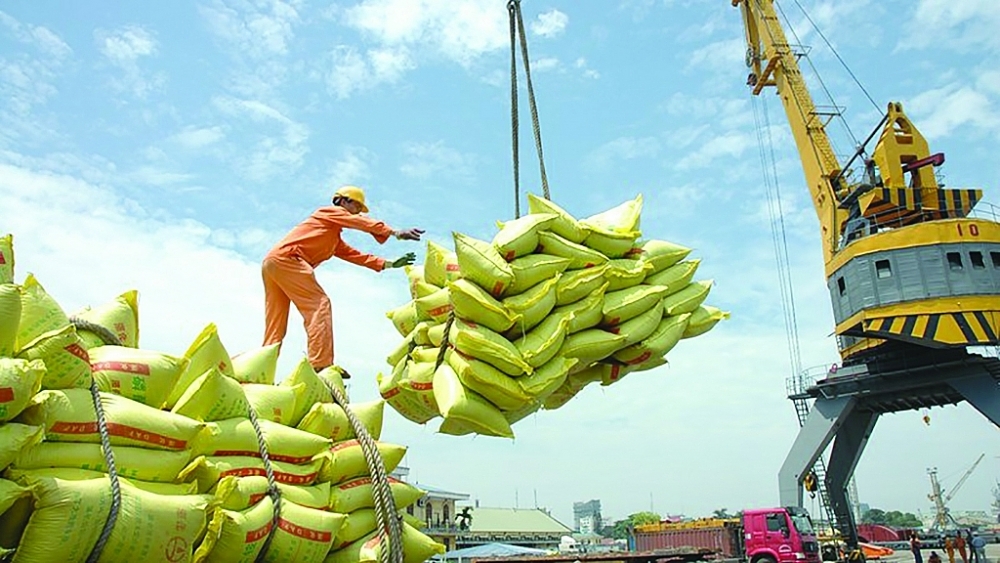 High production input costs, plus logistics costs that have not shown any signs of "cooling down", are factors that have a strong impact on Vietnam's rice exports. However, rice exports are forecasted to be more prosperous in the second half of the year, helping to earn an export figure of over 6.4 million tons this year.
Reduced competitiveness
According to preliminary statistics of the General Department of Customs, in the first five months of 2022, rice exports reached nearly 2.77 million tons, equivalent to over US$1.35 billion with the average export price of 489 US$/ton, increasing in turn. 6.6% in volume but down 4% in value and 9.9% in price compared to the same period in 2021.
In general, in the past five months, the Philippines is still the leading export market of Vietnamese rice, accounting for 45.9% of the total volume and 43.6% of the total value of rice exports of the country. Rice exports to this market reached 1.27 million tons, equivalent to US$589.81 million, up 34.6% in volume and 17.5% in value over the same period last year. The second largest export market is China, accounting for over 14% of the total volume and 15% of the total export value.
Recently, rice exports have faced many difficulties. According to Mr. Phan Van Co, marketing director, Vrice Co., Ltd., the African market has now switched to buying Indian rice due to its good price and cheaper shipping costs compared to Vietnam, making Vietnamese rice less competitive in the market. Currently, freight rates to major ports in the EU are still at US$9,000-US$10,000 per 20-foot container. The shortage of empty containers is still a problem, causing businesses' profits to drop sharply. Many orders to sell CIF (the selling price at the importing party's border gate including the cost of insurance and transportation of goods to the border gate of the importing party - PV) may suffer losses.
Pham Thai Binh, General Director of Trung An Hi-tech Agriculture Joint Stock Company, analyzed that in terms of price competition, Vietnamese rice is difficult to compare with Indian rice as up to 80% of Vietnam's rice production has moved from low to high grade. In addition, the price of fertilizers and agricultural materials has increased in recent years, which also directly affects the price of finished products.
"In the current period, exporters who want to maintain their performance must stabilize their output and reduce production costs, in order to make a profit," said Mr. Phan Van Co.
Exports for the whole year exceed 6.4 million tons
Despite facing difficulties, according to the Ministry of Industry and Trade, thanks to the increasing demand for rice it is forecasted that in the last months of the year, rice exports will be more prosperous, especially in the Philippines and China markets. The reason is that China's rice production has been reduced due to the effects of floods and the Philippines' rice stocks are also falling sharply. It is forecasted that rice exports this year will reach over 6.4 million tons, about 200,000-300,000 tons higher than in 2021.
Nguyen Quoc Toan, Director of the Department of Agricultural Product Processing and Market Development (MARD), said that rice exports are quite active due to strong demand from markets such as China, Bangladesh, Iran and Sri Lanka. In addition, rice exports to the EU are expected to increase sharply in the whole of 2022 thanks to incentives from the EU-Vietnam Free Trade Agreement (EVFTA).
In the past, high-quality rice only accounted for 35-40% of the rice production structure, but by 2020, this number will reach 75-80%, which has brought the price of Vietnam's exported rice up very quickly in the past few years.
Updating data from the Vietnam Food Association shows that on June 10, the export price of 5% broken, 25% broken and 100% broken rice of Vietnam was also significantly higher than the price of rice of the same type of India and Pakistan, respectively US$423/ton; 403 US$/ton and 378 US$/ton. However, the price of Vietnamese rice is slightly lower than the price of US$438 /ton; US$429 /ton and US$416 /ton of Thai rice. It is forecasted that the price of rice for export in the near future is unlikely to increase.
The structure of Vietnam's rice exports is continuing to shift in the direction of increasing aromatic, specialty, japonica and high-grade white rice with higher selling prices and added value. In order to improve rice export efficiency, Thuy said that the rice industry needs to review the import needs of each market, identify markets that consume low-priced normal graderice, high-grade rice markets and fragrant rice. In addition, Vietnam also needs to focus on trade policies with countries in the region, taking full advantage of the advantages of free trade agreements (FTAs).
Source: Customs News