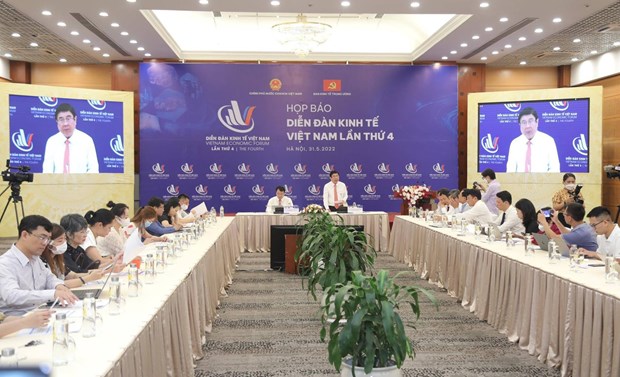 The fourth Vietnam Economic Forum is scheduled to take place in Ho Chi Minh City on June 5 with a focus on how to build an independent and self-reliant economy with extensive integration in the new context.

The forum will be held by the Party Central Committee's Economic Commission, the Government, and the HCM City People's Committee.

It will serve as a platform for ministries, sectors, localities, scientists, researchers, enterprises, and representatives of some international organisations to share opinions and viewpoints which will be considered in the Party Central Committee's drafting of socio-economic policies, Vice Chairman of the Economic Commission Nguyen Thanh Phong told a press meeting in Hanoi on May 31.

The event's plenary session will look into the global economy and major trends in international economic cooperation, opportunities and challenges to Vietnam in the global economy, digital technology manpower, and risk governance.

Meanwhile, three panel discussions will look into how to form a stable labour supply chain after the COVID-19 pandemic; the development of capital and real estate markets; and technological reform, digital transformation, and supply chain diversification.

Phong noted this will be the first time the forum takes place in HCM City, which is the country's economic locomotive and was also hit hardest by the pandemic last year. It will convey a message about the strong recovery and development of the metropolis and Vietnam as a whole./.
Source: VNA
Time: 08:00 05/06/2022
Location: Ho Chi Minh City