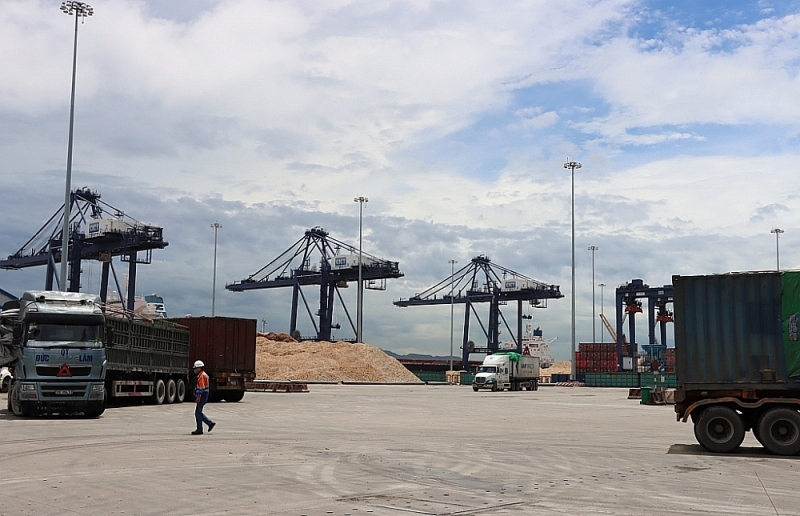 Besides investing in building and completing the system of warehouses, yards and gathering place for cargo inspection; the time of cargo clearance, and releasing goods have been reduced significantly, which is considered the advantage of Quang Ninh for continuing to accelerate import-export activities at industrial parks.
The advantages
In recent years, Quang Ninh province has stepped up administrative reform, improved the business environment, supported and accompanied enterprises, focused on investment to complete and develop infrastructure, upgraded border gate and seaport, and completed arterial traffic (Ha Long – Hai Phong Highway; Ha Long – Van Don – Mong Cai Highway) in order to connect key economic zone in the area with neighborhoods.
In addition, Quang Ninh also focused on many solutions to develop the system of seaports and industrial parks, border gate economic zones; shifting investment to attract large enterprises and corporations, developing manufacturing industries with high value-added content and not polluting the environment through important resolutions and plans on development of seaports, seaport services, development of processing and manufacturing industries.
Currently, Quang Ninh has attracted investors to build and complete a system of warehouses and yards, gathering places for import and export goods inspection such as inland container depot (ICD) at Km3+4; 19 locations of inspecting imported and exported goods are gathering in industrial parks.
In the border area, there are more than 72 locations of goods inspection at the construction site, at production facilities that are recognized as eligible for operation, 23 bonded warehouses and cold storage in the area that have been centrally planned close to seaport areas, border gates to serve goods storage and delivery of enterprises.
Currently, there are more than 40 customs broker agents, and 20 shipping agents, with a team of over 200 customs brokers, thus it helps to facilitate and promote freight forwarding and import and export activities.
Quang Ninh Customs Department has continued to fulfill customs reform and modernization. Hence, they have achieved outstanding results such as focusing on the effective implementation of the automated clearance system (VNACCS/VCIS) for 100% of import and export declarations; 100% of declarations are carried out by e-tax payment 24/7.
The unit has carried out procedures for seagoing vessels on entry and exit via the national single window system; deploying the connection of the National Single Window System at six customs branches, with 226 administrative procedures of 13 ministries and branches to receive permits, deduction quota and specialized inspection results.
Besides that, Quang Ninh also focused on deploying the monitoring system of goods entering and leaving ports and warehouses on VASSCM system. Providing online public services at levels 3 and 4 for 160 out of 160 customs procedures (for example, tax exemption, reduction and refund procedures, warehouse transfer procedures, procedures for establishing inspection sites at the construction site, production site, etc.).
Proposal to promote import and export
In order to continue to create favorable conditions to promote import and export activities in industrial parks in the area, recently, at a Conference on meeting enterprises in industrial parks held by Quang Ninh Customs Department, many solutions were discussed and agreed upon.
On the side of Quang Ninh Customs, the unit would continue to implement the annual plan on administration reform and customs modernization. In particular, concentrating on effective implementation of modernization in the stages of customs declaration and customs procedures, accelerating the construction and completion of the smart customs model to soon put it into operation.
Furthermore, continue to innovate thinking and working methods in the direction of being ready to accept, solve and remove difficulties for enterprises, take the initiative in supporting and approaching businesses, especially newly established enterprises, enterprises preparing to participate in import and export activities of goods at industrial parks in the area.
Quang Ninh Customs Department also proposed to Quang Ninh province to continue implementing the "Safe Green Zone" at road border gates to ensure the maintenance of results and negotiation efforts in cargo clearance.
At the same time, promoting the implementation of the planning, expanding the border gate scope for Hoanh Mo, Bac Phong Sinh and Mong Cai border gates (Bac Luan bridge II) to ensure the import and export activities of goods with a vision to 2030, aiming to reach the flow of thousands of vehicles transporting goods across the border.
Continue to negotiate and propose to the competent forces of China to increase the time for cargo clearance at border gates and opening paths.
Quang Ninh Customs also proposed the Provincial People's Committee develop a management mechanism for the operation of transport and loading goods activities in the areas of Hon Gai and Cam Pha floating ports in order to ensure strict management and effective exploitation of transportation and loading activities.
Source: Customs News