On 8 June 2022, the roadshow to introduce the Vietnam National Trade Repository (VNTR) took place in Hanoi, after the previous three roadshows in Hai Phong (March 3), Da Nang (24 February), and Ho Chi Minh City (17 February). The VNTR is linked to the ASEAN Trade Repository (ATR) https://atr.asean.org/.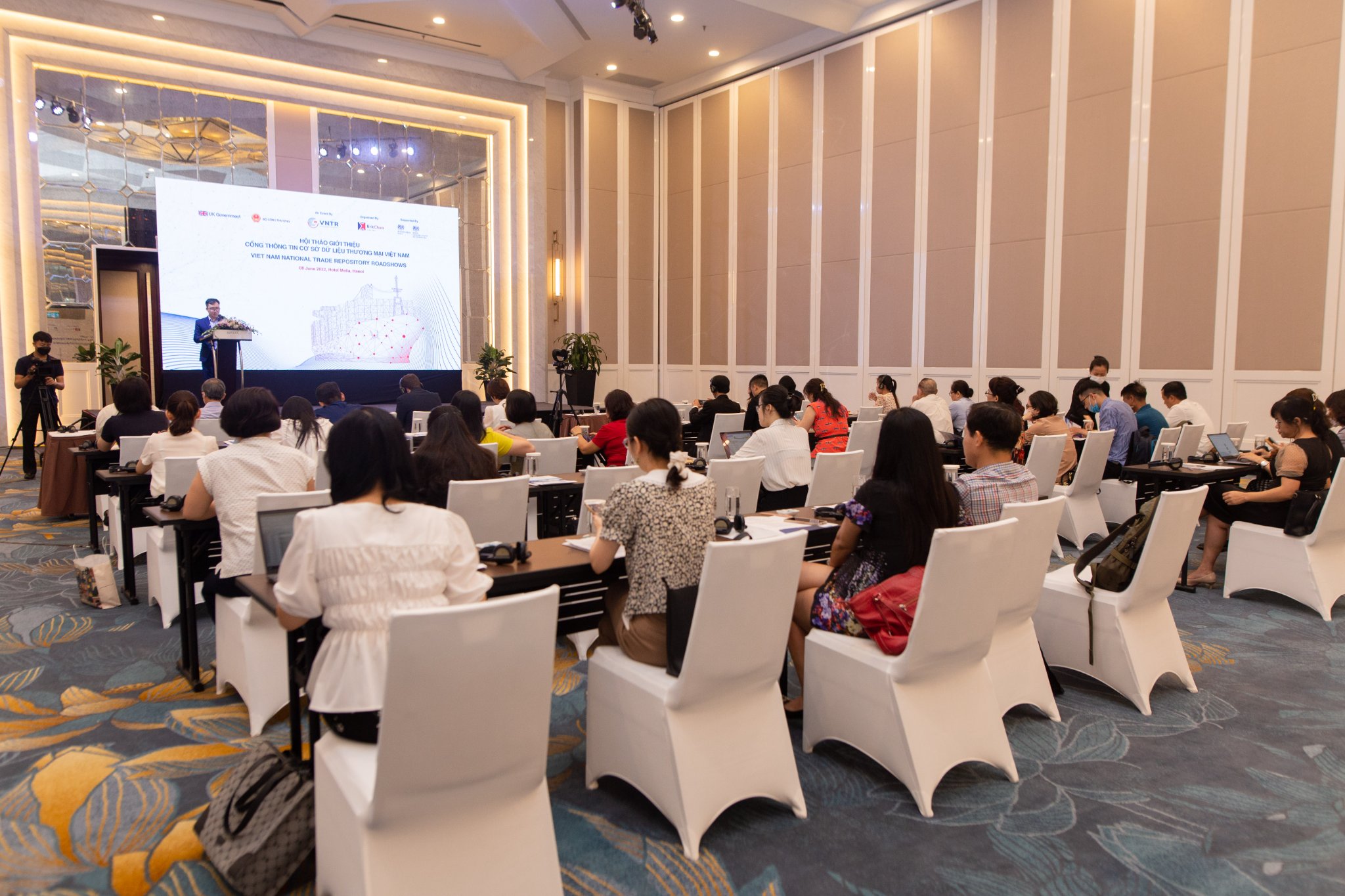 Having gone live at the end of March 2022, the VNTR is a free-to-access online portal that provides all the latest trade information in both English and Vietnamese. The roadshow welcomed participation (both online and in person) from representatives from the Ministry of Industry and Trade of Vietnam (MOIT), the UK Embassy, VCCI, media outlets, and the broader business community from across various sectors.
Speaking at the event, Mr Quyen Anh Ngoc, Deputy Director of the ASEAN Division, Multilateral Trade Policy Department at the MOIT, emphasised that the establishment of the Viet Nam National Trade Repository (VNTR) is to fulfil Viet Nam's commitment within ASEAN to improve the transparency of trade policies and regulations, facilitate regional trade, and support business community in gaining easier access to information about Viet Nam's commitments on trade in goods, trade in services and investment under ASEAN cooperation framework, thereby helping businesses be more proactive in business strategy development and enhancing their competitiveness during the course of Viet Nam's building ASEAN Economic Community with other member countries.
Representing the UK Government, who are funding the project, Mr. Harry Rawicz-Szczerbo, Head of Trade and Investment, UK Embassy, said: "VNTR will help reduce unnecessary costs and increase trade compliance with relevant legislation and regulation. It is vital to ensure that companies are able to establish a sustainable presence here in the market. The VNTR portal also plays a key role in helping micro, small, and medium-sized enterprises as well as supporting women-led companies and firms without established networks, to take advantage of the business opportunities stemming from cross-border trade."
Mr. Trevor O'Regan, Team Leader for the VNTR project, concluded by speaking about the sustainability of the VNTR: "The VNTR will be a central repository designed to provide access to all regulations and relevant trade facilitation information. It will provide transparency and clarity on information which businesses need to comply with when they seek to trade. It will be a free-to-access online information platform that provides all the latest trade regulations and information that businesses need to export and import to and from Vietnam when it goes live. In the medium-term, sustainability is the paramount concern for the VNTR. It is essential that information provided by the VNTR is both comprehensive and kept up to date and also that the VNTR is promoted widely to potential users of this free online source in both English and Vietnamese''.