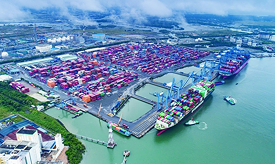 Close cooperation with logistics businesses and shipping lines, and choosing the right route for import and export are solutions within reach of businesses to reduce logistics costs in the current context.
Active solution for empty containers
Talking about the continuously increasing international freight rate, Vo Thi Phuong Lan, Head of Transportation and Forwarding Department - Vietnam Logistics Service Association (VLA), said that in 2021, the volume of goods exported from Asian countries to the US increased, leading to a sharp increase in demand for transportation on these routes, causing a sudden increase in freight rates.
In addition, oil prices also continued to skyrocket with an increase of 21% in 2021 and continued to jump another 52% in the first quarter of 2022. While the price of oil makes up to 40% of the domestic freight rate. This leads to the consequence that in the first quarter of 2022, all import-export enterprises have received notices of increasing domestic freight rates.
Port jams are also a headache for import-export enterprises. According to Lan, in the past, it took about 52 days for a container of goods from a Vietnamese factory to arrive at a supermarket in the US, but in 2021, it was double, which means it would take up to 104 days.
Sometimes in 2021, off the coast of the United States, there were 102 ships lined up to wait to enter the port of Los Angeles. The problem of port congestion also affects the rotation of empty containers. Although a lot of empty containers were put on the market, most of them were at sea. When ships docked in the US, they only had time to unload and immediately turn around to let other ships in, there was no time to wait for empty containers to be loaded back to Asia.
"This is a vicious cycle. Although the situation has improved, it is not completely solved. As of November and December 2021, the time to transport goods from Cai Mep port to Los Angeles was 17 days, but a ship has to wait up to three weeks outside to bring in the goods. When entering the port, if you want to go to Chicago to return to the domestic US warehouses, the goods will continue to take another three months," Lan said.
Under the stressful situation, besides the oil price problem that is beyond the control of enterprises, Lan has raised a number of solutions to help alleviate some of the difficulties.
Accordingly, businesses can find a solution to retain the imported container to pack the goods for export. Currently, there are six international shipping lines operating in Vietnam that provide this solution. To do this, businesses need to be proactive in booking ships to choose a shipping company that is similar between import and export. In addition, should choose FOB to reduce logistics costs as much as possible.
Lan also mentioned the situation in 2021, due to a lack of ships, many businesses had to book train schedules through 3-4 forwarding units, causing transportation costs to be very high. Accordingly, businesses should choose transport agents in level 1, that is, businesses with FMC licenses issued by the US Federal Maritime Administration to book ships directly.
"Currently, VLA enterprises with this license are serving businesses with prices lower than the market by about US$3,000-4,000 per container to the US. For example, the price to Los Angeles is currently US$13,000-14,000 per container, but with contracted partners, the current price is only US$11,500 per container," said Lan.
Dao Trong Khoa also added that Vietnam currently has 104 FMC-licensed logistics enterprises that are leading in Asia, of which 85 are members of VLA.
This is a very favorable condition for Vietnamese exporters when booking ships to the US. In addition, the service provision capacity of Vietnamese logistics enterprises has also been greatly improved, able to provide full service packages.
In order to reduce costs, export enterprises can deeply integrate logistics services into the production, circulation, and import-export process of goods. Khoa expects that in the future, export enterprises can cooperate more closely with logistics enterprises to process orders from the moment of signing the contract to delivery.
"In the past, such services were performed by multinational companies, but now Vietnamese enterprises can completely undertake this and I believe that the services provided by Vietnamese people will be much more competitive," Khoa said.
New route with cheaper cost
Besides the issue of international freight charges, domestic costs are also making businesses concerned, especially after Ho Chi Minh City collected port infrastructure fees.
In this regard, Pham Thi My Le, Vice President of Marketing of Saigon Newport Corporation, suggested some alternative routes to save considerable time and costs.
Accordingly, the exploitation capacity of the ports in Ho Chi Minh City has almost reached the maximum level, while the Cai Mep area still has room for high growth.
Therefore, businesses in Tan Uyen area (Binh Duong) can consider the option of making goods at Thanh Phuoc port and then transporting them by barge to Cai Mep port. Currently, Saigon Newport is working with a number of businesses to move empty containers to this area, helping businesses deliver goods directly. Ms. Le hopes to form a logistics center here.
"Transporting by river to Cai Mep will save 20-30% of costs compared to Cat Lai, not to mention the cost of seaport infrastructure that Ho Chi Minh City is collecting," said Le.
In order to exploit these transport routes, Le recommends that businesses should separate goods by each export market such as to the US, Europe, and Asia to avoid bringing all goods to Cat Lai. Containers suitable for the Cai Mep route can be directly unloaded at Thanh Phuoc port to travel by barge to Cai Mep.
Meanwhile, in Bien Hoa, Trang Bom and Vinh Cuu areas of Dong Nai province, Saigon Newport also has a plan to connect Tan Cang - Long Binh ICD with Cai Mep area.
Currently, there are shipping lines such as Hapag Loyd, Yang Ming and Cosco that have opened the code and left it empty here, helping businesses in this area deliver directly and unload goods here, then Saigon Newport will transfer to Cai Mep area for export. "With this option, instead of just focusing on running out of goods to Cat Lai or ICD Thu Duc as it is today, businesses can save more than 10% of costs, even though this is a road transport option," Le said.
Pham Thi My Le also added that now shipping lines tend to bring more large ships to Cai Mep area, some enterprises are also planning to set up their warehouses near Cai Mep area to embrace this trend.
Accordingly, in the future, Cai Mep will also form port logistics services such as depot, warehousing, etc. to help complete the same service as in Cat Lai.
Source: Customs News