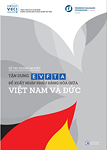 Time: 2021
By: Center for WTO and International Trade - VCCI
The EU-Vietnam Free Trade Agreement (EVFTA) is a new generation free trade agreement (FTA) between Vietnam and the 27 member states of the European Union (EU). EVFTA was signed on June 30, 2019 and took effect from August 1, 2020. With a wide range of commitments and a deep degree of liberalization, the implementation of the EVFTA will bring special opportunities to strengthen trade relations between Vietnam and EU member states, especially Germany - one of the most important EU markets of Vietnam's import and export.
Germany is currently one of Vietnam's leading trade partners. From an export perspective, Germany is the second largest export market in the EU and the seventh in the world for Vietnam. Regarding imports for Vietnam, Germany is our 2nd largest source of goods in the EU and our 14th in the world. Vietnam and Germany have a complementary product structure, with little direct competition. Vietnam has strengths in light industrial products, consumer products and agricultural and food products, and has a high demand for many raw materials and machines for production. Meanwhile, Germany is a powerhouse of heavy industry, exporting a lot of fuel and machinery and equipment; and also import many consumer goods, agricultural products and food.
In such a context, with commitments to sharply remove tariffs, trade facilitation rules, and limit non-tariff barriers, etc., the EVFTA is expected to be a highway to strongly promote trade between Vietnam and Germany in the near future.
To support businesse from both Germany and Vietnam to: (i) Aquire detail information about the commitments on goods of Vietnam and Germany in the EVFTA, thereby identifying specific opportunities from the Agreement; (ii) Obtaining core information on the situation and characteristics of the two Parties' markets, basic regulations on import and export procedures of Germany and Vietnam; (iii) Identifying opportunities and finding solutions to realize opportunities and maximize benefits that EVFTA can bring to bilateral trade, Vietnam Chamber of Commerce and Industry (VCCI) compiled and published "Business Handbook - Exploiting the EVFTA to import and export goods between Vietnam and Germany".
It is hoped that this Handbook will become a useful reference for Vietnamese and German businesses in commercial transactions between these two potential markets.
The Vietnam Chamber of Commerce and Industry would like to thank for the support of the Friedrich Naumann Foundation for Freedom (FNF) in researching, compiling and disseminating this Business Handbook./