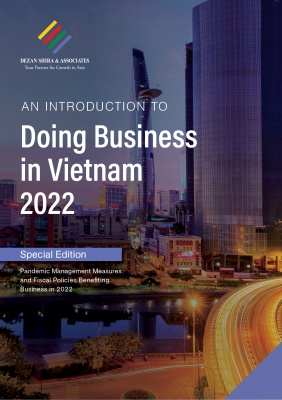 Published: December 2021
An Introduction to Doing Business in Vietnam 2022 will provide readers with an overview of the fundamentals of investing and conducting business in Vietnam.
Vietnam persevered through a difficult 2021 as the COVID-19 pandemic took a significant toll on its economy and people. The country went through a strict lockdown in the middle of the year, which lasted almost five months, forcing businesses to halt production and disrupting global supply chains. Residents, particularly in commercial hub Ho Chi Minh City and the southern provinces, were forced to stay at home and only go out for emergencies. The result was that Vietnam's GDP suffered a sharp decline by 6.17 percent in Q3 – the first time its economy recorded negative growth since 2000. This was a sharp contrast to 2020 when Vietnam managed to keep the pandemic at bay and with economic activities largely operating in normal capacity. But the Delta COVID variant incapacitated traditional strategies of containment.
Nevertheless, things are looking up. Economic activity resumed in October as Vietnam opted for a 'living with the pandemic' approach. Government authorities also announced a phased plan to reopen the economy to ensure pandemic prevention policies are in line with mandates from health authorities. Vietnam's Ministry of Planning and Investment (MPI) has targeted an annual average GDP growth rate of 6.5-7 percent during the 2021-2025 period.
While the country suffered setbacks, AmCham has noted that Vietnam's role in global supply chains is only expected to grow. The business chamber also noted that Vietnam remains an attractive investment destination, including for further relocations out of China. As with last year, Vietnam's market fundamentals remain strong, and its economy appears resilient to overcome the recent disruption to production due to the pandemic.
Vietnam has already fully vaccinated more than 50 percent of its population. Foreign investors remain bullish on Vietnam's long-term prospects. Businesses remain confident though there are challenges regarding a shortage of labor force, border restrictions, and compliance issues.
Doing Business in Vietnam 2022 covers the following:
Special Edition - Pandemic Management Measures and Fiscal Policies Benefiting Business in 2022
How to Set Up in Vietnam
Tax, Audit, and Accounting
Human Resources and Payroll
Within these chapters, we discuss a range of different topics that affect doing business in Vietnam, including market entry considerations, investment models, key taxes and incentives for foreign companies, as well as upcoming accounting changes. Special focus is also given to Vietnam's reopening measures and fiscal policies for the new year.
Source: Asia Briefing