The 2023 Zhejiang International Trade Exhibition and the 11th Zhejiang Export Fair, the largest and oldest expo independently held by China's Zhejiang authority in ASEAN, opened at the Hanoi International Convention Centre on September 28.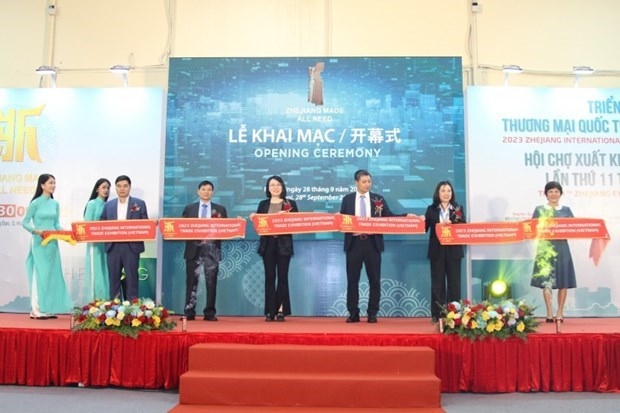 The 4,000sq.m expo features 120 booths, displaying products in hardware and machinery, textiles and inputs, interior and exterior furniture, electronics and household appliances.

The three-day event is hosted by the Department of Commerce of Zhejiang province, and co-organised by Zhejiang Yuanda International Exhibition Co Ltd and the Vietnam National Trade Fair and Advertising Company (VINEXAD).

Deputy Director of the Asia-Africa Market Development under the Ministry of Industry and Trade (MoIT) To Ngoc Son said this is the 11th year the two sides have coordinated to organise the trade promotion activity which marks the full recovery of economic and trade exchanges between the two nations after three years of hiatus due to COVID-19.
The event is expected to create more cooperation opportunities for businesses from both nations in the context that the global economy is facing a gloomy outlook, he said, adding Zhejiang province – an important gateway in China's eastern region has an important role to play in the Vietnam – China trade, with Vietnam – Zhejiang trade revenue accounting for 10% of the total trade between the two nations in 2022.

Launched in 2011, the expo has been a platform not only for product exhibition and promotion but also for Vietnam and China to strengthen economic and cultural exchanges and multifaceted cooperation between their localities.

Last year, Zhejiang's exports to Vietnam reached US$14.5 billion, an increase of 17.99%, while imports were US$6 billion, up 14.21% over the same period last year.

The exhibition will run until September 30.