Sharing at the seminar "Leveraging FTA to enter ASEAN: Industrial and technological opportunities for Canadian businesses in Vietnam" held in British Columbia (BC) province jointly organized by the Vietnam Trade Office in Canada recently, British Columbia Trade Minister Jagrup Brar said, Canada has learned the value and importance of strengthening international cooperation as the global economy faces unprecedented uncertainty and impacts on its business and supply chains.
Minister Jagrup Brar affirmed that strengthening relations with global partners such as Vietnam is very important. Vietnam is in ASEAN, the fastest growing region in the world and the top destination for Canadian goods and services among ASEAN countries, thanks to an average economic growth rate of 7% over the past 30 years.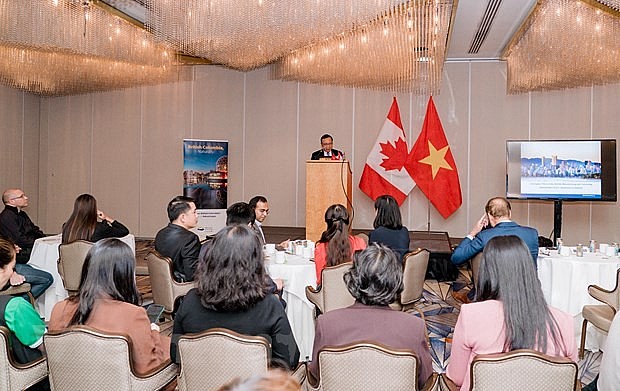 Seminar "Leveraging FTAs to enter ASEAN: Industrial and technological opportunities for Canadian businesses in Vietnam". Photo: VNA
According to Minister Jagrup Brar, Vietnam is being assessed as a gateway for Canadian businesses that want to access this market of 660 million customers. Trade relations between Vietnam and British Columbia have started to regain momentum, with 63% growth in 2022. In addition, British Columbia is also the most visited destination for Vietnamese businesses, with 6 projects worth more than CAD 300 million (USD 219.48 million).
"British Columbia's forestry sector is benefiting from its relationship with Vietnam through the CPTPP, in which softwood lumber exports have increased by nearly 60 per cent in the past 5 years," Minister Jagrup Brar said, adding that opportunities for industrial and technological cooperation for Canadian businesses in Vietnam will increase. contribute to promoting bilateral cooperation between the two countries.
Meanwhile, reassessing the 5-year implementation of the Comprehensive and Progressive Agreement for Trans-Pacific Partnership (CPTPP) in the new context of the Indo-Pacific Strategy and moving towards the ASEAN-Canada Free Trade Agreement (FTA), Vietnamese Consul General in British Columbia Nguyen Quang Trung said, The CPTPP market, with a trade bloc representing 500 million people with a GDP of about CAD 13.500 trillion, has brought new opportunities for economic, trade and investment relations of the two sides. As members of this Agreement, both Vietnamese and Canadian investors and exporters are benefiting from open market access and a reduced tariff environment.
Ms. Tran Thu Quynh - Commercial Counsellor of the Embassy of Vietnam in Canada said that British Columbia and Vietnam have many potentials for cooperation in the field of industry, especially in the fields of foundation industry and advanced industry that the two sides have strengths such as: Clean energy, electric vehicles, the automotive industry, artificial intelligence (AI) and semiconductors.
Not only that, British Columbia is home to strengths in agriculture, forestry and essential minerals. This is a premise for the two sides to cooperate to exploit the combined origin and thereby export to the CPTPP market or the market where Canada and ASEAN have FTAs.
Commenting on the potential, investment cooperation, science transfer as well as opportunities to connect trade between enterprises of the two countries, Mr. Hoang Ngoc Dinh - Chief Representative of Science and Technology of Vietnam in Canada - also said that new technologies such as renewable energy, semiconductor technology, mining, processing essential metals or capturing carbon... are areas Vietnam is in demand and Canada can meet.
These sectors not only help Canadian investors take advantage of the Vietnamese market but also make the most of the support policies of the Government of Canada such as the Climate Fund or the Just Energy Transition Partnership Program.
Vietnam is emerging as an attractive and potential destination for investors, science and technology enterprises, especially after Vietnam and the US upgraded their relations to the level of Comprehensive Strategic Partnership. This is considered an opportunity for partners of both Canada and Vietnam to promote cooperation, take advantage and exploit potentials to soon become reliable and strategic partners in the fields of science and technology in the future.