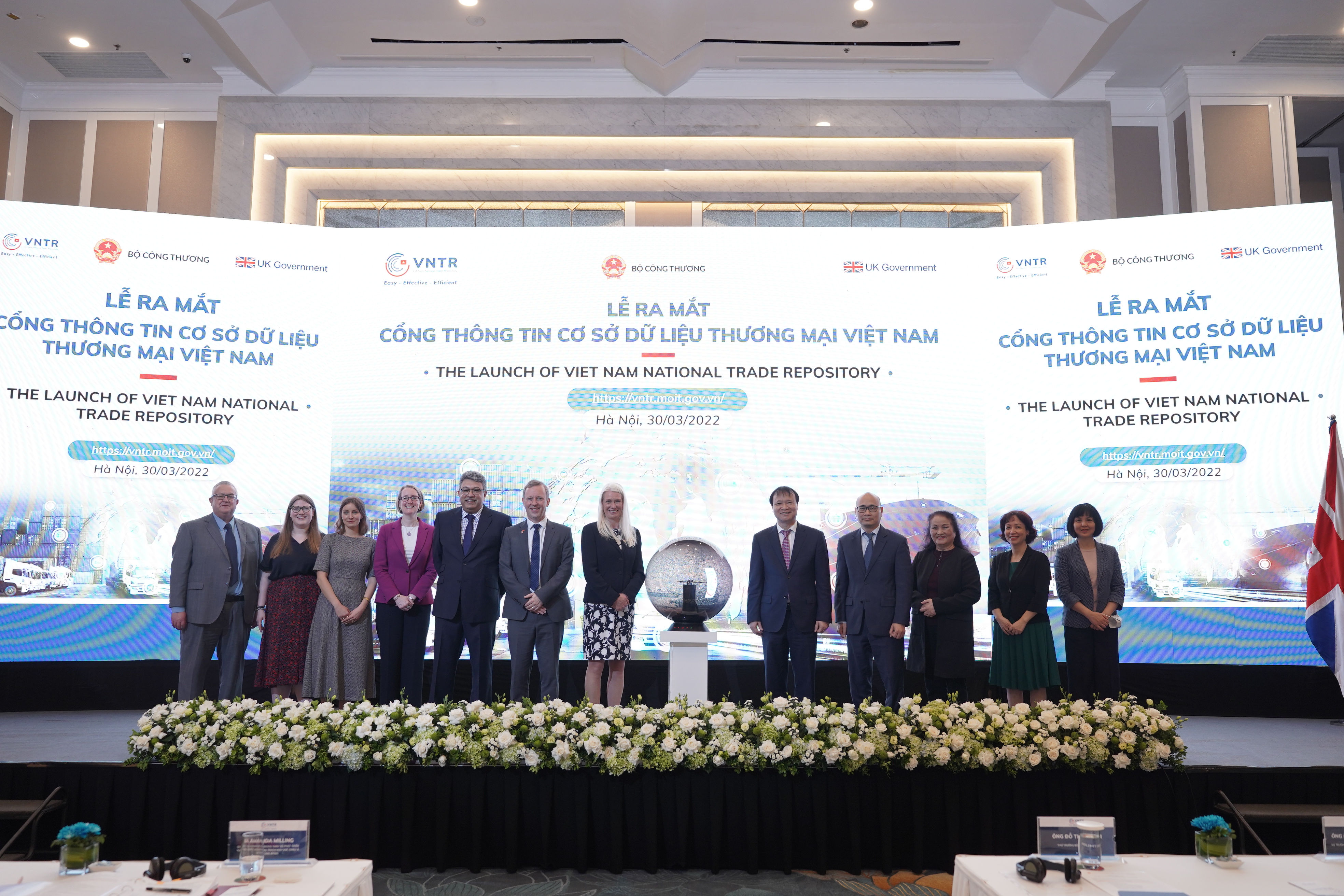 On March 30, 2022, the Ministry of Industry and Trade of Viet Nam (MOIT), in partnership with the UK Government, officially launched the Viet Nam National Trade Repository (VNTR). The Launch was attended by the Deputy Minister of Industry and Trade Do Thang Hai and the UK Foreign, Commonwealth & Development Office's Minister for Asia, Amanda Milling as the Chief Guests.
Developed by the MOIT and funded by the UK Government, VNTR is a free-to-access online information portal that will provide all the latest trade information in both English and Vietnamese to traders. Visitors will be able to access accurate and official information, including preferential tariffs, rules of origins, non-tariff measures, trade and customs laws and rules, and other relevant information relating to trade. The non-tariff measures information is presented with the assistance of UNCTAD, and following the international procedures and standardization.
Speaking at the event, H.E. Deputy Minister Do Thang Hai emphasised: "The establishment of the VNTR fulfils Viet Nam's commitment within ASEAN to improve the transparency of trade policies, facilitate regional trade, and support business community with easier access to information about trade policies of countries within the region, so that enteprises can be more proactive in business strategy development and enhancing their competitiveness."
In her opening remarks the UK Foreign, Commonwealth & Development Office's Minister for Asia, Amanda Milling highlighted: "The UK Government believes that free and fair trade is the best way to spread prosperity, and ultimately alleviate the challenges we face as a global community. The portal will help strengthen the diversity and inclusivity of our economies by helping micro, small, and medium-sized enterprises, including many companies led by women, to benefit from cross border trade. I believe it will be a boost for trade and investment in Viet Nam."
The VNTR portal will be linked to and become an integral part of the ASEAN Trade Repository (ATR).
His Excellency Dato Lim Jock Hoi, Secretary-General of ASEAN, also sent his congratulations to the Government of Viet Nam on the occasion of the VNTR launch. He said: "It is my great pleasure to extend warm congratulations to MOIT on the launching of the Viet Nam National Trade Repository (VNTR). It strongly demonstrates Viet Nam's unwavering commitment to build an enabling environment for businesses in the country and furthermore, to deepen the ASEAN economic integration… The launching of the VNTR is a remarkable accomplishment of Viet Nam. It is the fruit of collective and tireless efforts by a wide realm of governmental agencies with valuable technical supports from external partners. There is no doubt that this initiative would meaningfully enhance Viet Nam's credentials in its recovery strategy in which businesses are considered as the key driver".
In her speech delivered on behalf of the United Nation Conference on Trade and Development (UNCTAD), UNCTAD Deputy Secretary-General Isabelle Durant said: "UNCTAD is delighted to be working with the Governments of Viet Nam and the UK to build a modern and user-friendly National Trade Repository, the VNTR, and in offering our expertise in Non-tariff Measures (NTMs) data collection, dissemination and analysis in collaboration with the Central Institute for Economic Management in Hanoi."