For the fifth year in a row, Quang Ninh topped the Provincial Competitiveness Index (PCI) rankings in 2021.
Quang Ninh topped the PCI rankings for the 5th year in a row, with 73.02 points, according to the PCI 2021 rankings report. Hai Phong ranked second for the first time, with 70.61 points.
In 3rd and 4th place are Dong Thap with 70.53 points and Da Nang with 70.42 points, respectively. The next provinces and cities in top 10 leading provinces and cities in PCI 2021 rankings include Vinh Phuc with 69.69 points, Binh Duong with 69.61 points, Bac Ninh with 69.45 points, Thua Thien-Hue with 69.45 points, Ba Ria-Vung Tau with 69.03 points, Hanoi with 68.60 points.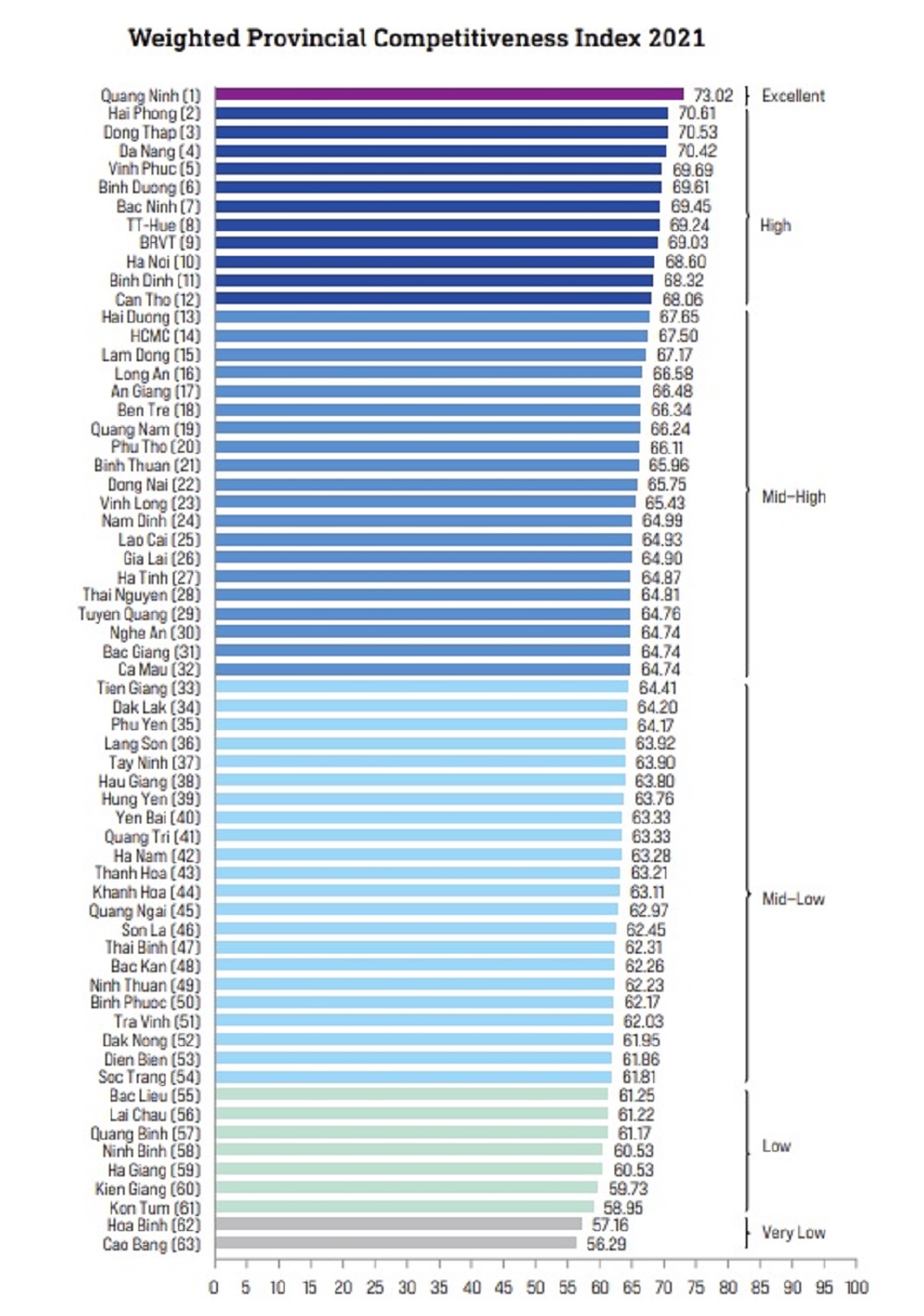 Binh Duong, Bac Ninh, Thua Thien - Hue, Ba Ria - Vung Tau, and Hanoi city rounded up the next top ten PCI 2021 rankings. Notably, after an eight-year absence from PCI 2013 rankings, Thua Thien - Hue province has re-entered the top ten PCI rankings (2nd place). Similarly, this is the first time that Ba Ria - Vung Tau has been in the top ten provinces in the PCI rankings since 2009, when it was ranked eighth.
Mr. Dau Anh Tuan, Head of VCCI's Legal Department, explained Quang Ninh's performance by saying that in 2021, Quang Ninh has always maintained a proactive, radical, and innovative character in direction and administration. "Quang Ninh continued to analyze, minimize, simplify, publicize, and transparent administrative procedures in 2021, reducing 40-50 percent of the time it took to handle administrative procedures as compared to regulations. The province of Quang Ninh has fulfilled its promise to accompany, listen to, and efficiently address business concerns ", said Mr. Dau Anh Tuan.
In this year's PCI rankings, Hai Phong City moved up five places. Through monthly direct conversations between businesses and leaders of the City People's Committee and departments and agencies, Hai Phong has also focused on quickly solving difficulties occurring in production and business activities. In addition, Hai Phong City has developed an Investment, Trade, and Tourism Promotion Center as a focal point in the "one-stop" concept for investment operations, which has helped to attract significant domestic and international investors. As a result, by 2021, this city not only drew a big number of domestic projects, but will also be at the top of the list for attracting foreign direct investment.
Some agencies in Hai Phong, including the Investment and Planning Department, the Tax Department, and the Economic Zone Management Board, have signed off public commitments to specific support and reform activities. Examples include a communication channel to discuss inadequate dossiers with firms, a promise that dossier revisions will not require more than one return trip, and a pledge to reduce by half the regulated time to complete many procedures. The city, an important gateway to the northeast, has made particularly positive steps by making these public commitments and offering businesses and the media outlets a chance to monitor their implementation. These efforts catapulted the city to leap 17 places higher in Transparency, ten places in Proactivity, and two places in Business Support Services rankings.
Despite these changes, the 2021 PCI Index score is highly correlated with the previous year at 0.75, which is statistically significant (p-value<.05). This relatively high correlation coefficient indicates that the PCI 2021 results remain consistent with prior years, thus providing a relevant tool for capturing business perception of provincial economic governance over time.
Source: Business Forum Magazine