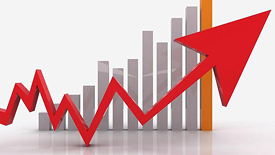 The GDP growth in the first quarter of 2022 is estimated to increase by 5.03% year-on-year, higher than that of 2020 and 2021, marking a return to a 5% growth or more after many difficult years.
Inflation also remains under control with the Consumer Price Index (CPI) increasing by 1.92% over the same period last year, and in the month of March by 0.7%.
Optimistic signs
Some optimistic figures from the growth of the manufacturing and service sectors also shows bright signs, although sectors such as tourism still face many difficulties. For instance, total retail sales of consumer goods and services increased by 4.4% year-on-year, although the passenger transport sector decreased by 23.6%. International visitors to Vietnam in March 2022 increased by 41.4% over the previous month and 2.2 times higher than in the same period last year.
These numbers show optimistic signs for the economy, although they do not paint a very rosy picture. With a growth target of over 6% for the whole year, the figure of 5% in the first quarter is still modest. Inflation of 1.92% is not high but not low either, and there are many potential risks, especially risks caused by rising gasoline prices and many other costs that have increased sharply on a global scale because the war in Ukraine is not completely over yet, and continues to affect prices of several commodities. In a way, the statistics of the first quarter of 2022 largely reflect past developments of the economy but have not yet reflected much on the impact of inflation due to rising prices of basic materials and consumer goods.
One of the areas that will be the most affected is the input costs of several businesses. According to a report by IHS Markit on the Purchasing Manager Index (PMI), input costs rose at the fastest rate in nearly eleven years and business confidence has fallen low. Vietnam's manufacturing growth momentum also shows signs of slowing down, as the PMI dropped from 54.3 points in February to 51.7 points in March. One level above 50 points means that production is still expanding, but the rate of expansion has slowed down considerably, which in other words means that the momentum has also plateaued off.
This is consistent with the situation in developed economies with strong growth in 2021 such as the U.K. or the US. When inflation rose sharply again, the growth of the economy began to lose momentum and started to decline when people's residual income dwindled again, especially after economic support packages were gradually collected and interest rates in the economy were no longer super cheap. The prospect of rising interest rates is in the immediate future, and while people's real incomes decrease, businesses will also be more pessimistic and cautious in all their dealings.
Challenges for economy
Compared to some countries, Vietnam is more than a few months behind in raising interest rates and inflation, and these pressures can be seen appearing gradually. The failure of the government bond auction on 30 March is a sign of this. It can be predicted that government bonds are under pressure to raise interest rates to improve the mobilization progress for the budget balance because the current issuance of bonds is only about 8% of the plan in 2022.
Pressure to raise interest rates and increase input costs of production is normal in the current global context. However, it will make the prospect of economic recovery extremely tough. The HSBC bank has just adjusted its forecast, lowering its growth forecast for Vietnam to 6.2% and raising inflation to 3.7%. Basically, this is not something so bad but is actually quite realistic. The target of controlling inflation at 4% this year is challenging, but even if it is surpassed, it will not be the general double-digit inflation as many fear. Even in the US, when the prices of some items increased by 50% to 60%, their inflation only approached 8%. So the aforementioned numbers are not too scary.
However, economic management must look at the quality of growth and people's lives, and not just understand general numbers. The 6% growth figure will not make much sense if the real income level of people is actually reduced. In the lowest income quintile, the likelihood that wages will grow below inflation is very true and likely to happen. The typical basket of goods can grow much more than the 4% average because of essential expenditures on food, and the growth could inherently be higher than on an average due to the spending habits of middle and upper-class people.
In other words, low and middle-income people will be hit harder by inflation and risk real incomes falling rather than rising because incomes grow more slowly than essential expenditures. This is happening in Europe and is becoming a social as well as an economic problem. Socially, it is clear that many people are being pushed into poverty. As for the economy, when the surplus income of a part of the people declines, sooner or later it will affect the aggregate demand in the economy.
The real challenge for Vietnam in 2022 and also for policy-making agencies is to have other evaluation criteria than growth and inflation figures. To ensure monitoring as well as timely support of policies for the people, the situation of growth must be avoided where only a few people get rich while the majority continue to struggle and face innumerable difficulties on a daily basis.
Source: SGGP News