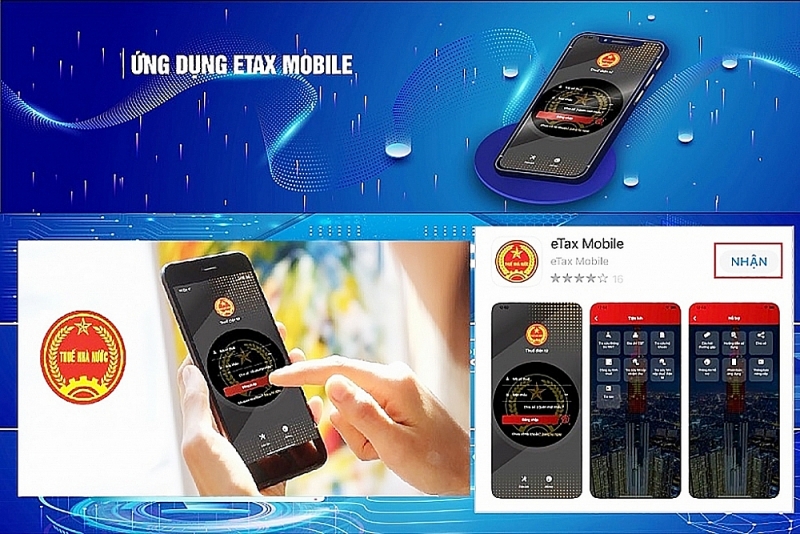 The eTax Mobile application not only benefits taxpayers but is an important solution in the tax industry's digital transformation roadmap.
Safe, secure
To support taxpayers to fulfill their tax obligations in the most favorable way and contribute to achieving the goal of "Non-cash payment project in Vietnam for the 2021-2025 period" and "National Digital Transformation Program to 2025, orientation to 2030" of the Prime Minister, the General Department of Taxation has researched and continued to provide electronic services to taxpayers through expanding the eTax application on the Web platform to eTax application on mobile devices (eTax Mobile).
The eTax Mobile application is a service channel in the integrated platform of the Tax industry that provides electronic tax services to taxpayers that are individuals, business households, etc., to facilitate and ensure safety and security.
According to the latest statistics from the General Department of Taxation, by May 4, 2022, there were 129,400 downloads, installations and uses of the eTax Mobile application, 45,866 registered accounts, and 23,809 bank transactions with a total amount of over VND159 billion.
Currently, the application has allowed organizations and individuals to make online tax payments by using the application's functions through personal accounts opened at five banks: Vietcombank, BIDV, VietinBank, Agribank and MBBank.
In the near future, the tax agency will continue to connect with all banks so that those who have accounts at one of 54 banks can make online tax payments via eTax Mobile.
According to Mr. Pham Quang Toan, Director of the Information Technology Department (General Department of Taxation), this application brings many benefits to taxpayers, so the application will be expanded with more services, forming an ecosystem of smart tax services.
Instead of previously obtaining information about tax obligations through face-to-face contacts, phone calls, emailing the tax authorities, or looking up public information on the website of the General Department of Taxation, the taxpayers now can actively search for information quickly through the eTax Mobile application with an internet-connected device (mobile phone, tablet).
The country's tax agency said the eTax Mobile application is built in a modern direction, associated with the general trend of smart mobile applications, compatible on both iOS and Android platforms, easy to use and meets the actual needs of taxpayers when it integrates a variety of utilities.
Mr. Pham Quang Toan said, in order to facilitate taxpayers to contribute to implementing the Government's direction on non-cash payments, the General Department of Taxation will continue to connect with all banks so that all individuals and taxpayers can pay taxes electronically on the eTax Mobile application.
Simple, easy to understand
Currently, many tax departments across the country have supported taxpayers to use the eTax Mobile application. Mr. Nguyen Hai Binh (Cau Giay, Hanoi) said he has just been instructed by a tax officer to download the eTax Mobile application to learn and use.
He said this application is very convenient and full of his personal information about the implementation of tax obligations. He highly appreciated the transformation of the tax industry in providing electronic tax services to users.
According to a tax official, most electronic devices have entered people's lives. In the implementation of electronic tax, there are still a number of business households and non-agricultural taxpayers who are not good at using advanced devices.
However, this is only a temporary difficulty and does not affect the implementation much when the tax sector is still focusing on providing information and guiding people to use applications, especially utilities in tax payment and searching, helping people pay tax more actively and easily.
As for the bank - which plays an important role in this work, most of the commercial banks said the electronic tax payment on the application via the bank will create favorable conditions for taxpayers, while also bringing added value to bank customers.
BIDV Deputy General Director Nguyen Thi Quynh Giao said that the launch of eTax Mobile application is a step forward in tax management and payment, marking a strong transformation of the tax industry in promoting modernization and digital transformation, creating cohesion between tax authorities and taxpayers.
The strengthening of eTax Mobile service has helped BIDV provide free tax payment services to 16 million individual customers of BIDV and grant tax codes to 60 million individuals. BIDV is committed to accompanying the General Department of Taxation to strongly implement the National Digital Transformation program, continue to develop electronic tax payment services, and provide tax services to people smoothly.
With eTax Mobile, users can use one of three login methods: password, fingerprint or FaceID.
The eTax Mobile application has the following main functions: tax payment; look up tax obligations; look up tax notices; utilities; support. Besides, eTax Mobile also has setting functions such as: set avatar; change login password; set login method; subscribe to channels to receive information; highlight function settings.
To use the application, users need to install eTax Mobile on smartphones or tablets using iOS (Iphone, Ipad), Android (Samsung, LG).
On the iOS operating system (iphone) from 9.0/9.1 and above, users go to the App store, enter the search keyword "Electronic Tax", then download the app and install it.
On Android operating systems from 4.1 and up, users go to Google play, enter the search keyword "Electronic Tax" and download the app to their device and install it.
Source: Customs News