The 20th China-ASEAN Fair (CAEXPO 2023) officially returns in Nanning City, Guangxi from September 16-19, after 9 years of epidemic impact.
In recent years, trade between China and ASEAN has continuously increased thanks to the advantage of geographical location, trade agreements such as the ASEAN-China Free Trade Agreement (ACFTA), the Regional Comprehensive Economic Partnership (RCEP) and major trade promotion events such as CAEXPO. In 2022, bilateral trade reached $975.3 billion, up 11.2% from the previous year and 2.2 times the figure recorded 10 years ago. China has been ASEAN's largest trading partner continuously for 14 years.
According to statistics from China's Ministry of Commerce, as of July 7, total investment between China and ASEAN countries has exceeded $2023 billion, with more than 380,6 companies established in ASEAN with Chinese direct investment.
Together, both sides build innovative models and create new channels for ASEAN countries to integrate into local developments across China. The two sides agreed to continue promoting economic, trade and investment cooperation, stabilizing supply chains, supporting market access, and expanding cooperation on digital transformation, digital economy, climate change response, energy transition, green and sustainable development.
At the 26th ASEAN-China Summit (September 6), within the framework of the 9rd ASEAN Summit and related meetings in Jakarta (Indonesia), Chinese Premier Li Qiang highlighted the importance of the ASEAN-China Comprehensive Strategic Partnership and said that this was achieved thanks to the efforts of both sides, jointly cultivate strategic trust, mutual assistance, win-win cooperation, promote sustainable and inclusive development.
At this conference, Prime Minister Pham Minh Chinh suggested that, as each other's leading trading partners, ASEAN and China need to closely coordinate and join hands to make the region become the center of economic growth. It is necessary to take advantage of geographical proximity, improve the quality of economic, trade and investment cooperation, maintain smooth trade, promote connectivity, ensure production and supply chains, and expand cooperation in digital economy and green economy development.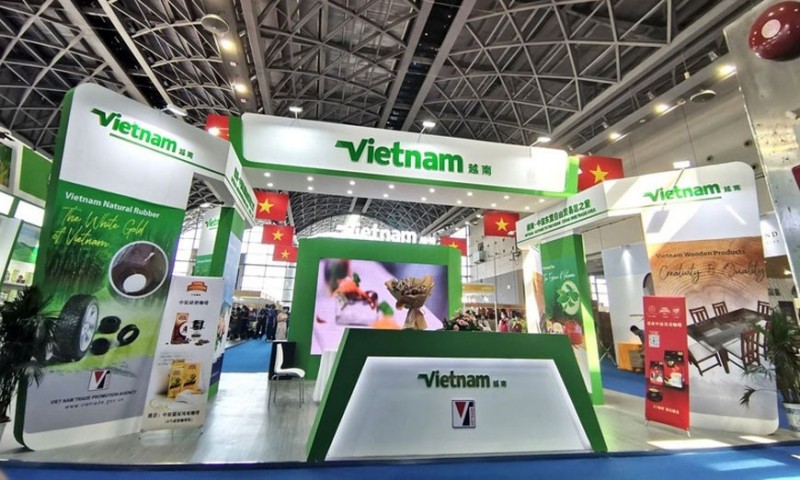 Vietnam Pavilion at the 19th China-ASEAN Fair