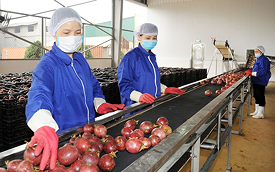 China has been actively preparing to convert its import of agricultural products from unofficial channels to official ones. This market is also standardising import criteria through new regulations and conditions. However, many Vietnamese businesses are still not ready for the race to dominate this large market.
The Ministry of Agriculture and Rural Development recently held a meeting to discuss the transition from unofficial and small-scale shipments to export through official channels to the Chinese market to avoid the congestion of goods at border gates.
Increasing value thanks to official exports
Chairman of the Board of Directors of Dong Giao Foodstuff Export JSC (DOVECO) Dinh Cao Khue said that the export of passion fruit to China through unofficial channels accounted for 75% of the total export revenue in 2020, but the rate was reduced to only 25% in 2021. Along with the increase in official exports is the growth of processed products, which helped raise the price of passion fruit to 20,000 VND per kg from an earlier price of only7,000-8,000 VND per kg.
This is a concrete example showing the great value of switching to this way of exporting. In addition, most of China's large enterprises prefer to import goods through official channels because all issues in trade will be transparent while product quality is also guaranteed.
In the field of seafood, Deputy General Secretary of the Vietnam Association of Seafood Exporters and Producers Nguyen Hoai Nam said Vietnam has good policies and approaches to markets such as the European Union (EU) and Japan. Exporting enterprises rely on specific regulations to produce and process products, meeting market requirements right from the beginning. So it is convenient for enterprises while increasing the added value of products.
However, for the Chinese market, such systematic regulations remain modest. Therefore, the quality control of products to China must be systematically implemented to promote growth in this market.
Although Vietnam has many products in high demand in the Chinese market, enterprises must perfect their business methods and meet import conditions to be eligible to export their products to this market. According to Khue, many products such as bananas, mangoes, pineapples, and passion fruits still have a lot of opportunities to boost their export growth to China, but enterprises must follow the right process from planting, and harvesting to the exporting method. If it is difficult to export fresh products, so they should quickly convert to processed products, Khue added.
Transition to official export, an urgent need
Minister of Agriculture and Rural Development Le Minh Hoan emphasised that the transition from unofficial exports to official exports requires perseverance, willingness and the readiness of enterprises. They will then have a roadmap to reorganise production, markets, categories and industry associations in order to standardise the raw material area, trace the product origin, and grasp market information to bring products into line with official export criteria.
However, the transition of export to official channels also faces many challenges because we have mainly produced for unofficial export for years. Therefore, it is necessary to follow standardised requirements from supply to demand as well as from production to market expansion.
According to the Ministry of Agriculture and Rural Development, the export turnover of Vietnam's agricultural, forestry and fishery products to China reached 1.3 billion USD in the first two months of 2022, down 7.4% over the same period in 2021. This decrease was partly due to continuous changes in border management of China, causing congestion for Vietnamese agricultural products and the suspension of exports to the country.
The Chinese customs have approved 1,853 enterprise codes to allow Vietnamese enterprises to export to the country. The Ministry of Agriculture and Rural Development will continue to strengthen exchanges with Chinese customs to remove problems arising so that more Vietnamese enterprises and products will be approved to ship to China.
Director of the Department of Agricultural Product Processing and Market Development Nguyen Quoc Toan said that China will continue to flexibly change its policies on border management with the aim of limiting and maintaining the quantity of goods imported from Vietnam. For example, China can designate or grant import permits, suspend imports or only provide customs clearance for specific types of goods at a border gate which will make Vietnamese businesses passive and subject to high risks.
On the other hand, China is closely monitoring items that are not exported through official channels. Some products such as durian and passion fruit are still shipped to China through the trails and border crossing conducted by border residents, but it is becoming more difficult to export these products to China this way. Even the conversion of exports to sea and railway modes cannot be done with all the goods piled up at the border gate as in recent times. Therefore, it is necessary to have a unified determination from localities to producers and exporters to shift from unofficial to official exports.
Instead of selling what you have already according to the old-fashioned way, it is advisable to talk to Chinese partners about their standards in order to bring products into line with their requirements. Agricultural production must be associated with market trends so that traders can be proactive in their output and managing prices.
Source: Nhan Dan Online