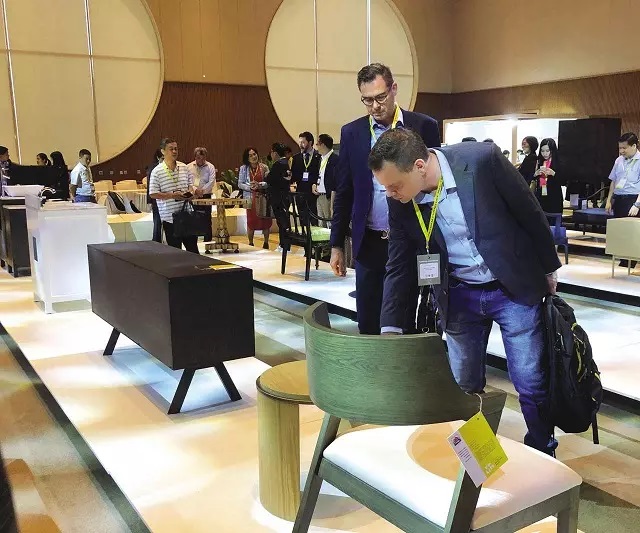 In 2020, Vietnam overtook China as the largest woodwork supplier of the United States, which is the world's biggest woodwork consumer.
The U.S. market, accounting for more than half of Vietnam's total woodwork exports, has continued awarding orders to producers in Vietnam.
U.S. importers have grown more wary of trade fraud since the U.S. imposed high taxes on wooden products imported from China.
Mitchell Gold + Bob Williams, a woodwork supplier of retailers in the United States, has shifted its import orders from China and India to Vietnam since 2019. Tracy Tran, representative of Mitchell Gold + Bob Williams in Vietnam, said that the firm has ramped up the number of Vietnamese woodwork suppliers to 16 from the previous four due to the high taxes imposed on many wood products imported from China and concerns about the quality of some woodwork from Indonesia. "Due to its high-quality products, Vietnam has provided some 70% of the firm's total woodwork import volume," Tran said.
Nguyen Van Sang, director of Viet Products and owner of the Furnist woodwork store chain, said that the firm has received orders for export to the United States until the end of September.
"Over the past three years, the firm has partnered with several new U.S. importers, making the U.S. woodwork import represent nearly 70% of the company's total export value compared with the previous 20%," Sang said, "These new customers switched to buying Vietnamese products instead of products manufactured in China."
Scansia Pacific Vice Chairman Nguyen Hoai Bao said that the firm's revenue from exports to the United States soared by five-fold against the figure seen five years ago. Many major customers, including Walmart, placed orders with the Vietnamese firm.
"Vietnamese woodwork has become popular for its quality and competitive prices, so after the United States imposed high taxes on wood products imported from China, international woodwork buyers moved their orders from China to the Vietnamese market," Bao said.
Great potential for export
The United States is the world's largest woodwork consumer. Despite disruptions in supply and labor-related issues, the woodwork industry ranked second among 15 leading production industries with the rapid growth monitored by the U.S. Institute for Supply Management, reported by woodworkingnetwork.com.
According to Italy's Center for Industrial Studies, the global woodwork market bounced back in 2021, with much higher consumption than that before the pandemic. The global consumption of woodwork is expected to grow in 2022 and 2023. The United States will remain the world's biggest woodwork importer. Many American retailers and importers are seeking capable and reliable partners, while Vietnam offers ample potential for foreign investors.
Trade remedy challenges
Vietnam's woodwork industry is facing multiple challenges in terms of exporting items to the United States, as the latter lays down stringent requirements on transparency in information and fair trade. Though the two countries have signed agreements on monitoring the origin of wood, several Vietnamese wood products still face an investigation for unusual activities. This is the biggest challenge for Vietnam's woodwork export to the selective market.
Some items such as bedroom and kitchen furniture have enjoyed a high consumption rate over the past few months. The United States consumes some US$5-7 billion worth of kitchen cupboards alone per year. As such, Vietnamese wood firms are scaling up their production and export of this item, according to the Vietnam Timber and Forest Product Association (Viforest).
Vietnam's cupboard export to the United States has reported a strong gain, posing risks of origin fraud, according to Viforest.
Speaking at a recent conference on woodwork, Nguyen Pham Nhu Ha from the Customs Control and Supervision Department under the General Department of Vietnam Customs said that over the past few months, the department has realized multiple potential risks of accelerating the import of wood from China and surging woodwork exports to the United States since 2018.
After the China-U.S. trade war began, the general department assessed the risks facing not only woodwork and wood but also other items; however, wood products caused concern. The local market is seeing two main origin fraud methods used by China-invested companies. These firms import veneer and plywood from China and then attached them with "Made-in-Vietnam" labels, while the second fraudulent practice is buying wooden parts from China for assembly in Vietnam and exporting the products with Vietnamese origin, according to Ha.
"Such a sophisticated circumventive trade method has taken customs authorities time to investigate and collect evidence," said Ha.
The representative of the Ministry of Industry and Trade also pointed out that an export boom could attract an investigation and imposition of anti-dumping and anti-subsidy duties.
According to the Trade Remedies Authority of Vietnam under the ministry, four wood products, namely plywood, wardrobe, sofa framed in wood and wooden slat and wooden tape, which have mainly been exported to the United States, were listed among the 11 export items facing an investigation for the evasion of trade remedies and origin fraud in late 2021. The export of these wood products to the United States has got a boost since 2020, while the country imposed high anti-dumping and anti-subsidy duties on these products imported from China.
To minimize the negative impact from trade remedy measures, the authority asked Vietnamese exporters to equip themselves with knowledge about trade remedy laws and plans to respond to lawsuits, and closely work with investigators to detect and handle origin fraud cases.
According to Viforest, domestic firms play a key role in preventing origin fraud. They should strictly comply with bilateral trade regulations and not aid and abet scams and fraud which could damage the brand and image of Vietnamese woodwork.
Viforest also proposed the competent agencies carefully review foreign investment deemed highly risky. Amid fierce global trade competition, it is necessary to frequently assess the risks of unfair and unhealthy competition to avoid trade fraud.
Source: Saigon Times